Jubilee 1300: the first Holy year
The first Jubilee in the history of the catholic Church dates back to 1300. It was proclaimed by Pope Boniface VIII and it is remembered as the first Holy year. It is perhaps not generally known that originally the Jubilee was meant to be every 100 years. Of course, men have always liked round numbers. Yet, the interval was reduced to 50 years, then to 33 years and eventually to 25, also allowing the possibility to proclaim minor or extraordinary Jubilees.
Jubilee 1300: Pope Boniface VIII
Benedetto Caetani (Anagni circa 1235 – Rome 1393), before becoming Pope Boniface VIII, was a member of an important roman noble family. This allowed him to become part of the Roman Curia at a very young age where he carried out diplomatic missions in France and England. In 1281 he became a cardinal under Pope Martin IV; he advised Pope Celstine V in his decision to abdicate in 1294 and in the same year, on Christmas eve, he was elected Pope provoking discontentment in some rival noble families such as the Colonna family (in particular Giacomo and Pietro Colonna refused to obey him).
Boniface VIII's policy was dictated by compromise, as far as temporal power is concerned. The agreement he signed with the commune of Spoleto is an example of his strategy; in effect he granted the commune full jurisdiction for all types of trial.
«Spoleto had to consign a list of three candidates for the post of chief magistrate and three candidates for the post of judge of appeal to the Pope or to the regional chancellor twice a year; if the designation didn't take place within a month Spoleto could choose in autonomy».
From "Comuni e signorie nell'Italia nordorientale e centrale: Lazio, Umbria, Marche, Lucca. Vol VII** in Stroria d'Italia UTET, G.Galasso"
In the word of the historian Johannes Haller, Bonifacio
… «he had more power in the provinces of his state than any other Pope before Pope Innocent III».
Jubilee 1300 – why did Boniface VIII proclaim it?
Why did Boniface VIII proclaim the first Jubilee in 1300? This question is subject of historiography studies, of course, and does not have a univocal answer since it is strictly connected to the several interpretations that have been given to Boniface VIII's life.
Nevertheless, historiographers .agree in ruling out the worldly and socio-economic interpretation behind the decision of the Pope. The most interesting secular studies can be found in "Medioevo Cristiano" ( by Raffaello Morghen) and in "Storia di Roma – Roma dal Comune di Popolo alla Signoria Pontificia (1252-1377)" (by Eugenio Dupré Theseider). However, other interpretations (more journalistic and less historical), which can be found in "L'Italia dei secoli d'oro" by Montanelli and Gervaso, claim that Boniface VIII decided to proclaim the first Jubilee because he wanted to enrich the Vatican funds.
But it is well known that history is always much more complicated compared to the way we tend to represent it. According to the book "Comuni e signorie nell'Italia nordorientale e centrale: Lazio, Umbria, Marche, Lucca. Vol VII** in Stroria d'Italia UTET, by G.Galasso, the Papal States (which had been found one century before) were already very rich between 1288 and 1303. Therefore, this data rule out the hypothesis introduced by Montanelli and Gervaso.
On October 15th, 1298, Boniface VIII accepted the Colonna family's surrender (that, as it was mentioned before, contested the legitimacy of his election). Moreover, he obtained a temporary propitiation with Philip IV the Fair, king of France. It could have been, therefore, the perfect powerful situation to organise a Jubilee, but he did not, or at least he did not do it on purpose. By the end of December 1299, the phrase "plenary indulgence" was spreading everywhere in Rome with urgency and necessity – those round numbers, those millenary theories that come back at the end of each century. The word was spread that on January 1st,1300, the Pope would have given the plenary indulgence to all those present at Saint Peter's Basilica. So, a myriad of Romans turned out at the cathedral. It is possible that this pilgrimage towards the cathedral was not so "voluntary" but inspired instead by a canon's sermon who said that on that day an "extraordinary major indulgence" would have been given.
There were no written documents proving the event, nor evidence of former Jubilee celebration in previous "round years". However, Pope Boniface VIII eventually decided to satisfy the request of the people.
It is possible that the desire to confirm his temporal power, to reaffirm his spiritual authority and to please the Roman people all together backed his decision.
Jubilee 1300 – the papal bull of the first Holy year
The papal bull of the first Holy year and the first Jubilee indulgence. On February 22th, 1330, Boniface VIII proclaims the first Holy year with the bull "Antiquorum habet fida relatio" (A document full of faith). He also proclaims the first Jubilee indulgence, beginning on Christmas day 1299, therefore retroactively.
It follows the Latin version of the Jubilee bull:
«Antiquorum habet fida relatio, quod accedentibus ad honorabilem Basilicam Principis Apostolorum de Urbe concessae sunt magnae remissiones, et Indulgentiae peccatorum. Nos igitur qui iuxta officij nostri debitum salutem appetemus, et procuramus libentius singolorum, huiusmodi remissionem, et Indulgentias omnes, et singulas, ratas, et gratas habentes, ipsas auctoritate Apostolica Confirmamus, et approbanus. Ut autem Beatissimi Petrus, et Paulus Apostoli eo amplius honorentur, quo eorum Basilicae de Urbe devotius fuerint a fidelibus frequentatae, et fideles ipsi spiritualium largitione munerum ex huiusmodi frequentatione magis senserint se refertos; Nos de Omnipotentis Dei misericordia, et eorundem Apostolorum eius meritis, et auctoritate consisi, de Fratrum nostrorum consilio, et Apostolicae plenitudine potestatis, omnibus in praesenti anno millesimo trecentesimo a Festo Nativitatis Domini Nostri Iesu Christi praeterito proxime inchorato, et in quolibet anno centesimo secuturo, ad Basilicas ipsas accedentibus reverenter, vere poenitentibus, et Confessis, vel qui vere poenitebunt, et consistebuntur, in huiusmodi praesenti, et quolibet centesimo secuturo annis, non solum plenam, et largiorem immo plenissimam omnium suorum concedemus, et concedimus veniam peccatorum. Statuentes, ut qui voluerint huiusmodi Indulgentiae a nobis concessae fieri participes, si fuerint Romani, ad minus triginta diebus continuis, seu interpolatis, et saltem semel in die, si vero Peregrini fuerint, aut Forenses, simili modo diebus quindecim, ad Basilicas easdem accedant. Unusquisque tamen plus merebitur, et Indulgentiam efficatius consequetur, qui Basilicas ipsas amplius, et devotius frequentabit. Nulli ergo, etc. Datum Romae apud S. Petrum 8 Kal Martij Pontificatus nostri anno sexto».
The English translation is shown below:
«According to the story of some old men full of faith, there is a tradition, that great remissions and indulgences for sins are granted to those who visit the venerable Basilica of the Prince of the Apostles in the city (of Rome). Wherefore, we, who according to the dignity of our office desire and ought to procure the salvation of each, holding all and each of these remissions to be authentic, do by our Apostolic authority confirm and approve the same, and even renew and sanction them by this our present seal. In order that the Blessed Apostles Peter and Paul may be the more honoured as their Basilicas in this city shall be the more devoutly frequented by the faithful, and that the faithful themselves may feel that they have been replenished by an abundance of spiritual favours in approaching their tombs, we, confiding in the mercy of Almighty God, in the merits and power of these His Apostles, in the counsel of our brethren, and in the plenitude of the Apostolic authority, grant to all those who being truly penitent and confessing their sins, shall reverently visit these Basilicas in the present year 1300, commencing from the festival of the Nativity of Our Lord Jesus Christ, which has just been celebrated, and to all who being truly penitent, and shall confess their sins, and shall approach these Basilicas each succeeding hundredth year, not only a full and copious, but the most full pardon of all their sins.

We determine that whosoever wishes to gain these indulgences granted by us, must, if they be inhabitants of Rome, visit these same Basilicas for thirty days in succession or at intervals, and at least once a day; if they be foreigners or strangers they must in like manner visit the Basilicas for fifteen days. Nevertheless, each one will merit more, and will the more efficaciously gain the indulgence as he visits the Basilicas more frequently and more devoutly. Let no man, therefore, dare to infringe or impugn this our rescript of confirmation, approval, renewal, grant and decree. And if any one presumes to assail it, let him know that he will incur the indignation of Almighty God and of the Blessed Apostles Peter and Paul.

Given at Saint Peter's, Rome, February 22nd, 1300, and the sixth year of our Pontificate».
It is worth to be noticed that, even though there was no real documentation, Boniface VIII chose to mention " the story of some old men full of faith" to somehow uphold the proclamation of the Jubilee.
Boniface took advantage of the Jubilee bull to exclude some of his enemies from the number of those who could receive the indulgence.
First: Christians who traded with Saracens
Second: King Frederick of Sicily and the Sicilian people since he occupied the reign against the Church's will.
Third: the Colonna convict and their supporters ( both public and secret) unless they decided to abide by the Holy See.
For all this reasons, it is clear that the Jubilee was also a great occasion to reaffirm the papacy's power.
Indulgence: how to obtain it
1300 is also the first Holy year in which, as it has been mentioned before, it was possible to obtain the plenary indulgence.
In order to do so, you had to follow some rules written in the Jubilee bull. Romans had to visit Saint Peter and Paul's Cathedrals at least once a day for 30 days (not necessarily in a row), while pilgrims coming from elsewhere had to visit them for 15 days.
Naturally, the indulgence was "more effective" for those who visited the cathedrals wuth more "regularity and devotion".
The Jubilee of 1300 in the Divine Comedy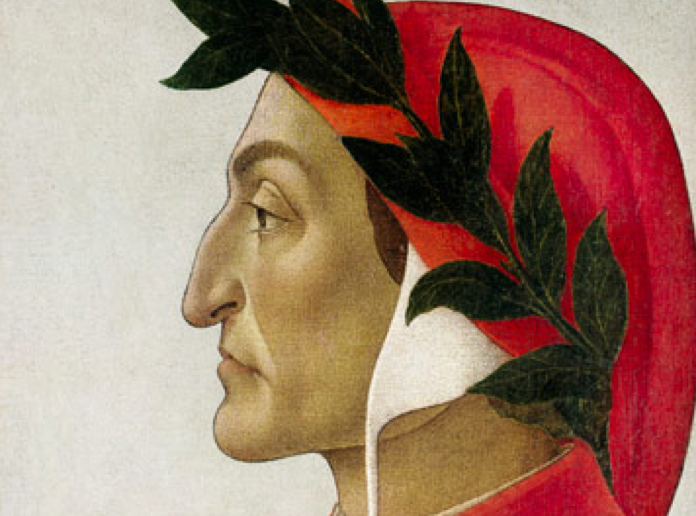 The Jubilee of 1300 is also mentioned in the Divine Comedy by Dante Alighieri.
According to the predominant literary theory, the 7 days long imaginary journey accomplished by Dante among Hell, Purgatory and Heaven took place exactly during the first Jubilee, in 1300. More precisely, it probably started on April 8th, 1300, the Good Friday. ( A secondary theory claims that it started on March 25th in the same year). The identification of this date is possible thanks to several temporal clues present in the Divine Comedy. For instance, Dante got lost in the "selva oscura" (the dark forest) "nel mezzo del cammin" (in the middle of the path) of his life. In the Connubio, Dante wrote «lo punto sommo di questo arco [della vita terrena] ne li più io credo [sia] tra il trentesimo e il quarantesimo anno, e io credo che ne li perfettamente naturati esso ne sia nel trentacinquesimo anno», therefore we can say that in the middle of his life he was 35. Since we know that he was born in 1265, we can definitely say that he accomplished his journey in 1300.
Moreover, there is also a coincidence between the Jubilee and the redemption journey imagined by Dante.
Eventually, we know that in 1300 Dante was a Prior and he had to sign the exile for his friend Guido Cavalcanti.
In the canto XXI of Hell, vv. 112-114, the demon Malacoda says that the bridges which linked the ditches of the 8th circle of Hell all crumbled when Jesus died, that is "mille dugento con sessanta sei anni" (1266 years) and five hours before the conversation between the demon and Dante.
Eventually, it follows the reference Dante makes of the Jubilee in Rome (Hell XVIII, 28-33),
Infine, ecco il riferimento circa l'afflusso dei pellegrini a Roma (Inf. XVIII, 28-33)
«Come i Roman, per l'esercito molto,
L'anno del Giubbileo, su per lo ponte
Hanno a passar la gente modo tolto:

Che dall'un lato tutti hanno la fronte
Verso 'l castello, e vanno a santo Pietro;
Dall'altra sponda vanno verso 'l monte».
Jubilee 1300: Bibliography
Here you can find an essential bibliography about the Jubilee 1300. Unfortunately, not all books can be consulted entirely online.
Archivum Historiae Pontificiae, Volume 30, «Il Giubileo del 1300» by Mario Fois
Il papato nel secolo XIII: cent'anni di bibliografia (1875-2009), by Agostino Paravicini Bagliani
Ecclesia in hoc mundo posita: studi di storia e di storiografia medioevale, by Pietro Zerbi
Historia de'giubilei pontificii, by Andrea Vittorelli