Jubilee bull, Misericordiae Vultus – April 11th, 2015 (live video recording)
April 11th, 2015: presentation of the papal bull with which Pope Francis will officially proclaim the Jubilee.
The bull's title is Misericordiae Vultus.
As announced, it will be possible to receive the indulgence also if not in Rome.
In his bull, Pope Francis declares he chose this symbolic date, December 8th, 2015 since it is the 50th anniversary of the end of the 2nd Vatican Council.
The Misericordiae Vultus bull was published on the official Vatican website at the beginning of the ceremony.
Extraordinary Jubilee bull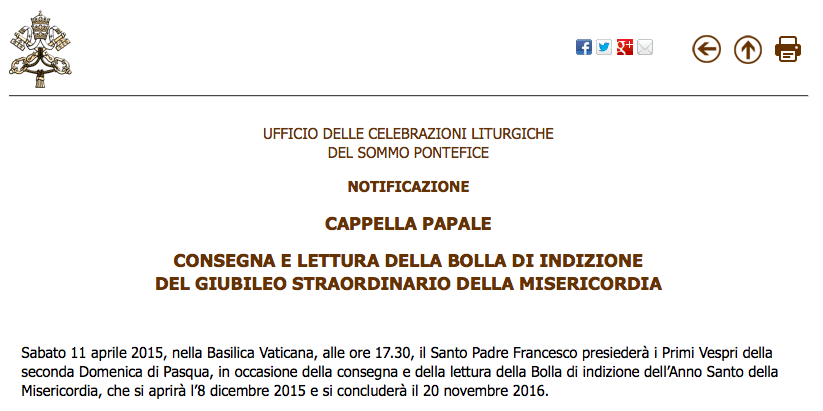 Jubilee bull – The bull which proclaims the Jubilee of Mercy was announced on March 13th and publicly confirmed on April 11th, 2015 in a ceremony which started at 5.30 p.m. in Saint Peter's Basilica.
The ceremony started with the Pope reading the bull right in front of the Holy Door. Then, Pope Francis officiated the first vespers of the Divine Mercy Sunday and highlighted the main topic of the extraordinary Holy year.

The bull reading officially conveyed to the public the Jubilee's dates and timing ( December 8th, 2015 – November 20th, 2016) and described its conditions. Thus, Pope Francis announced the intentions and the spirit of this extraordinary celebration.
The choice of the proclamation date also stresses the importance given by the Pope to the theme of Mercy.
The bull was also read on Sunday 12 April 2015 during several celebrations held in
– Archbasilica of St. John Lateran by the Cardinal High Priest Agostino Vallini;
– Basilica of Saint Mary Major by Cardinal High Priest Santos Abril y Castelló;
– Papal Basilica of St. Paul outside the Walls by Cardinal High Priest James Michael Harvey.
The Bull: Historical overview
The bull, from latin bulla, originally was a wax seal contained in a metal capsule or lead or golden hanging seal in papal or imperial documents. Then, by metonymy, the term was used to describe the whole document. For several centuries, this phrase also referred to noble edicts but today its only meaning is a papal document with specific recipients.
The papal bull is, therefore, an official document in Latin released by the Roman Curia and published with the papal seal.
Usually, bulls are catalogued by the first words of their text. The date is written in Roman numbers.